---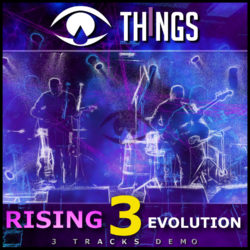 AUDIO FROM RISING 3 EVOLUTION
Les chansons qui suivent sont extraites de notre démo. Cette dernière est composée de maquettes et non d'enregistrements bénéficiant d'un mastering elle représente le son actuel du groupe. Seul le titre Over you a été totalement produit avec une qualité professionelle.
Rising 3 est accessible en totalité aux professionnels seulement, effectuez en la demande depuis la page CONTACT.
Here are the songs extracted from our demo, these are just home studio recordings and represents the actual sound of the band during shows. Only the track "Over you" is produced with professional quality.
This demo "Rising 3" can be fully accessed only for professionals, write us using the CONTACT tab to ask for it.
---
OVER YOU
Radio edit (Mastertool studio)
---
UN GENRE DE (DEMO)
3:49 TIME
THINGS Homestudio RECORDING
Français LANGUAGE
MP3 256 Kbps SOURCE
---
IT'S ALIVE (DEMO)
3:35 TIME
THINGS Homestudio RECORDING
English LANGUAGE
MP3 256 Kbps SOURCE
---
ZERO POINTE (DEMO)
3:43 TIME
THINGS Homestudio RECORDING
Français LANGUAGE
MP3 256 Kbps SOURCE
---
BOTH OF I (Live demo)
3:30 TIME
L'Echonova (Live one shot) RECORDING
English LANGUAGE
---